Surviving in Cyprus: an expat's guide
"I finished work at lunchtime on Friday and by 3 pm I was at the airport!"
That's how Gladys began her new life in Lanarca.
It was a big step for her and husband, but they had been planning for years to retire and find a place in the sun. And where better than this impressive four-bedroom villa in Cyprus?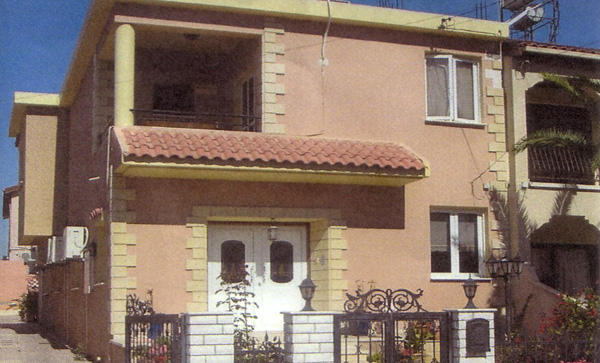 "Our family and friends were in a way upset at our decision to leave," she recalls, when they announced that they would move to Aradippou, a much sought-after suburb of Lanarca just 15 minutes from the beach. "But everyone remarked that they now knew where to go for holidays!"
The warm weather and new surroundings were exciting, she tells me, before admitting that being the new kid on the block was nerve-wracking.
"It was a couple of hours before landing that it sunk in what I had done. We knew no one on the island!"
With a little help from my friends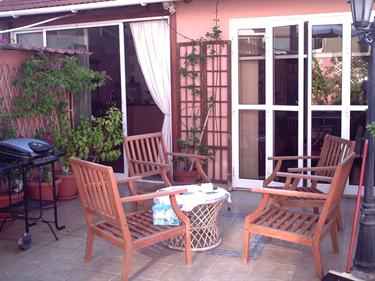 It got worse when they reached the house to discover their furniture would not arrive for three weeks.
But the Cypriot locals soon came to the rescue: "No sooner had we arrived than a neighbour invited us for dinner. I was invited by another for breakfast, while her husband took mine to sort out a bed."
So Cyprus wasn't so scary after all?
"From day one we found everyone was so helpful and friendly, giving us little bags of fruit when we went for a walk, inviting us in for coffee."
She pauses.
"Cyprus coffee is awful. But being British I took it gracefully!"
Apart from the coffee, what else was different in Lanarca? Was it tough to get used to driving on the wrong side of the road?
"Oh, the roads are very British! We drive on the same side, have insurance and MOTs. The only difference is the tax disc, which isn't displayed but carried with you. On the whole it was easy to fit into their way of life. Being an ex-British colony, their law and many of their ways are based on the UK system."
The language, then. That must have been a challenge.
She laughs. "I tried to learn Greek – and I'm still rubbish!"
So the communication barrier isn't a problem? Ordering food or buying things in the supermarket?
"Every time I try to use my Greek, I'm answered in English!" she replies. "Most people can speak English and if they can't, they always know someone who can."
The way she puts it, moving to Cyprus doesn't seem like such a big step after all. There's Christmas, Burns Night and St George's Day to celebrate. There's even an M&S, a Tesco Express and a chip shop, not to mention the British cinema.
She reminds me of the large expat community out here, which only adds to the familiarity.
"We quickly made friends with other Brits. People hearing us speak in supermarkets, on buses, in petrol stations would stop, speak and invite us to their homes – that never happened in Britain in all the years I lived there!"
If Cyprus is different to England, she concludes, it's mainly because everyone is more helpful.
"One thing I learned very quickly – if you don't understand something, ASK FOR HELP. It doesn't matter if you're at the hospital, local authority offices or wherever, people will be only too pleased to help you out. They almost take a pride in offering their assistance."
Room enough to rent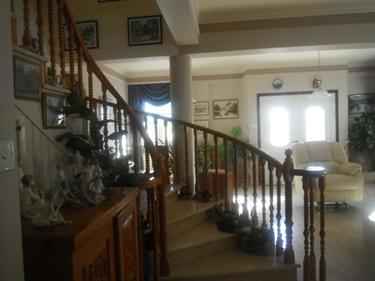 What about family? Did her kids ever forgive her for moving abroad with her husband?
"We had barely settled when they started to arrive," she smiles. "I think we see more of our family now than we did back home!"
It's no surprise. You can see from the three large bedrooms that the house has more than enough room for guests. You could even rent it out as a holiday home if you didn't plan to live their permanently – Lanarca is popular with tourists, adds Gladys. It's easy to see why.
"We swim almost every day, go for meals, visit Aradippou's theatre, take tango lessons and then hit the beach," she enthuses, launching into a description of the local attractions.
So much for a quiet retirement. Rather the opposite: Gladys seems hell-bent on making the most of what's on offer.
"Where else can you ski in the mountains then drive to the beach to swim on the same day?"
She has a point.
She stands and offers me tea – not coffee. I follow her to the kitchen, an attractive, bespoke cream room that she had done after moving in.
"The house is our permanent home, so we've constantly upgraded it," she explains. She points out the main improvements: the laminate floor, the fireplace in the family room, "not that we even need that amount of heat!"
She takes me into the small garden and we sip our drinks there, passing through some gorgeous outside doors with hand-painted glass.
She asks what I think. I don't tell her that I'm more impressed by the designer Italian tiles in the downstairs bathroom.
Survival tips for expats in Cyprus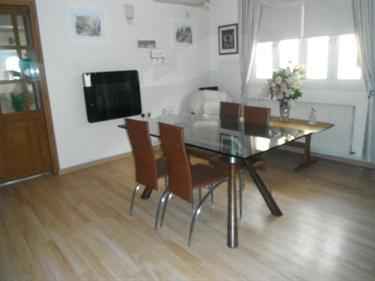 I finish my tea and ask about how she's lasted so long.
She makes relocating abroad look easy, but there must be some tips she can share for eager expats-in-waiting.
"You need to learn very quickly that time doesn't mean a great deal. People promise to come with deliveries in 10 minutes or invite you for dinner at 7pm, but they're so laid back here. Now I know to ask if they mean British time or Cyprus time!"
What about food? Is there anything to avoid?
"Cypriots have a different way of butchering meat," she cautions. "At the butchers always state exactly what you wish. They believe in waste not, want not. It is very common when ordering a leg of, say, lamb to find it chopped up into bits, or to see a chicken complete with giblets, legs, neck etc. being handed round in a large dish for dinner."
So is there anything she misses about home at all?
She smiles. "What do I miss about home? Basically nothing! We have satellite TV, which keeps us well up-to-date with what is going on throughout the world."
She explains that these days, staying in touch with friends abroad is easy thanks to technology. "Internet access is throughout the house," she points out.
I nod, trying not to think about the 52-inch TV in the main bedroom.
"I am sure anyone buying this home would have a better standard of living than in UK and be very happy out here," she concludes. Then lets out a little chuckle. "We do laugh when we hear about the weather in Britain."
Looking to move to somewhere sunny?
This Cyprus home can be yours for £237,209. Price negotiable.